Introducing the latest poly-crystal container of Sadaf Pack Company for saffron. Berelian large is the largest member of the Berelian family, which is one of the most popular and newest poly-crystal containers for saffron. This container with a capacity of 10 grams of Negin saffron (saffron threads) and 20 grams of Sargol saffron is quite suitable for exporting and selling saffron internationally. In this article, we will discuss the advantages of this container to find out if it is worth buying or not?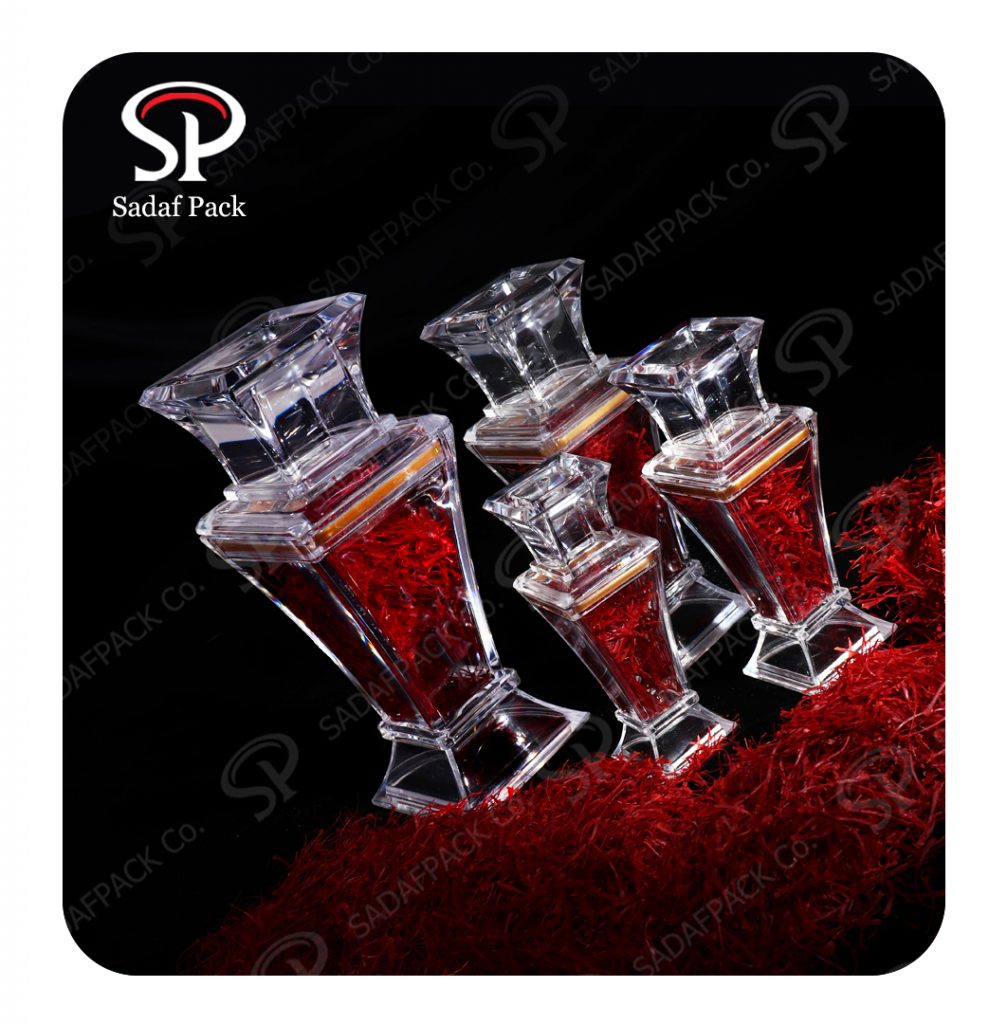 The manufacturing process of Berelian large:
Berelian large is made of three parts: Lid, body and crystal cap.
Sadaf Pack containers (including Berelian Large) are transparent and durable.
The secret of transparency of Sadaf Pack products is the use of the best raw materials and the latest German technology in injection and molding machines. Berelian Large includes a poly-crystal body that becomes wider at the top and a square golden band separates it from the lid, and the lid, becomes wider by moving away from the body. By placing Damask roses or similar products in the crystal cap, the container looks more beautiful.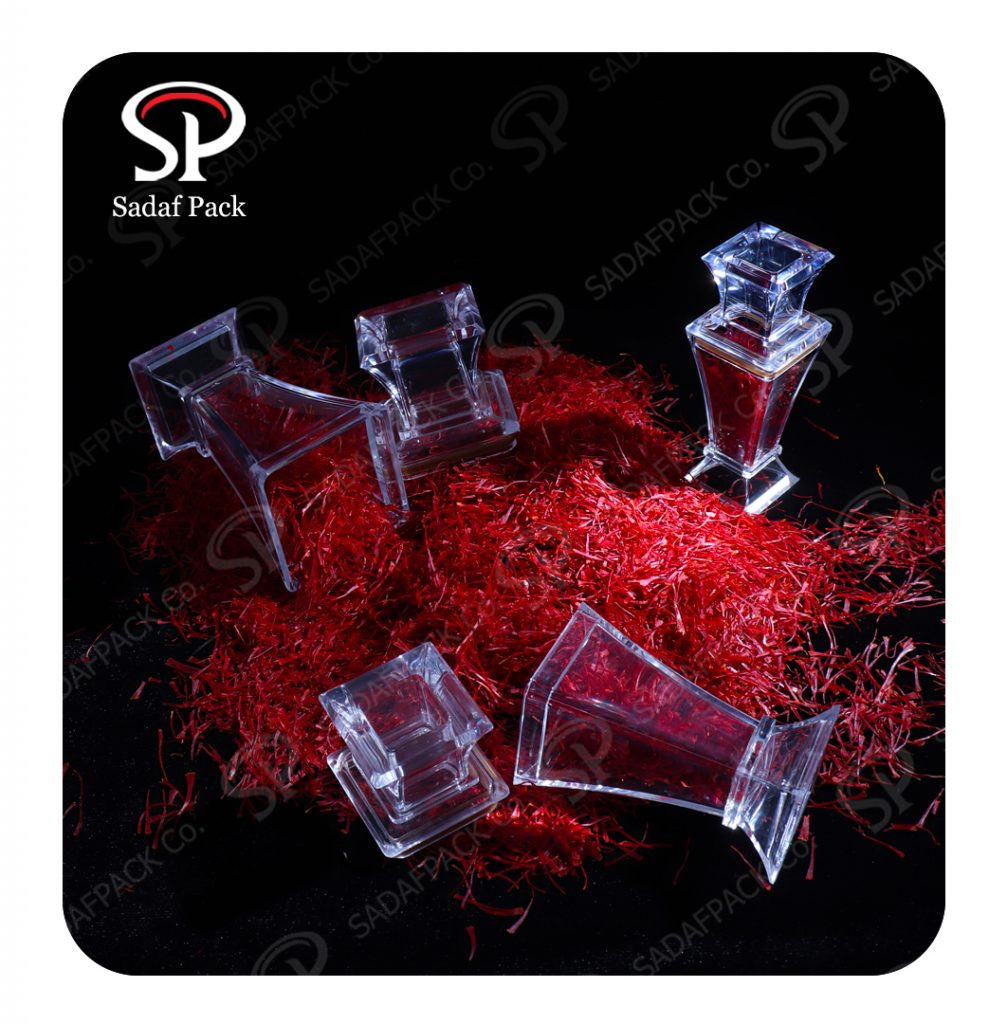 Specifications of Berelian Large containers:
Berelian Large container weighs 170 grams; Its dimensions are 170 * 70 * 70 mm and it is suitable for packing 10 grams of Pushal (Negin) saffron and 20 grams of Cut-Filament Saffron (Sargol) saffron. This box is packed in a five-layer standard export carton with dimensions of 360 * 315 * 500 mm and each carton contains 56 containers.
This container is suitable for packing saffron, cardamom, coffee, herbs and powdered spices.
Why should one buy Berelian Large containers?
The containers that are produced for packing a large volume of saffron usually have a lot of weight, although they are beautiful. But despite its light weight (170 gr), Berelian Large is very special and suitable compared to other samples that have been produced. The new Berelian Large causes a little light reflex and display saffron in the best possible way and make the product attractive to the customer.
If this container compares with other products of Sadaf Pack Company, there are significant points. For example, poly-crystal Gohar container is one of the oldest large-sized containers used for packaging. The following table shows characteristics of Berelian Large and Gohar Large.
| | |
| --- | --- |
| Berelian Large | Gohar Large |
| Weight: 170 gr | Weight: 146 gr |
| Cut-Filment Saffron Capacity: 20 gr | Cut-Filment Saffron Capacity: 25 gr |
| Qty in carton: 56 pcs | Qty in carton: 56 pcs |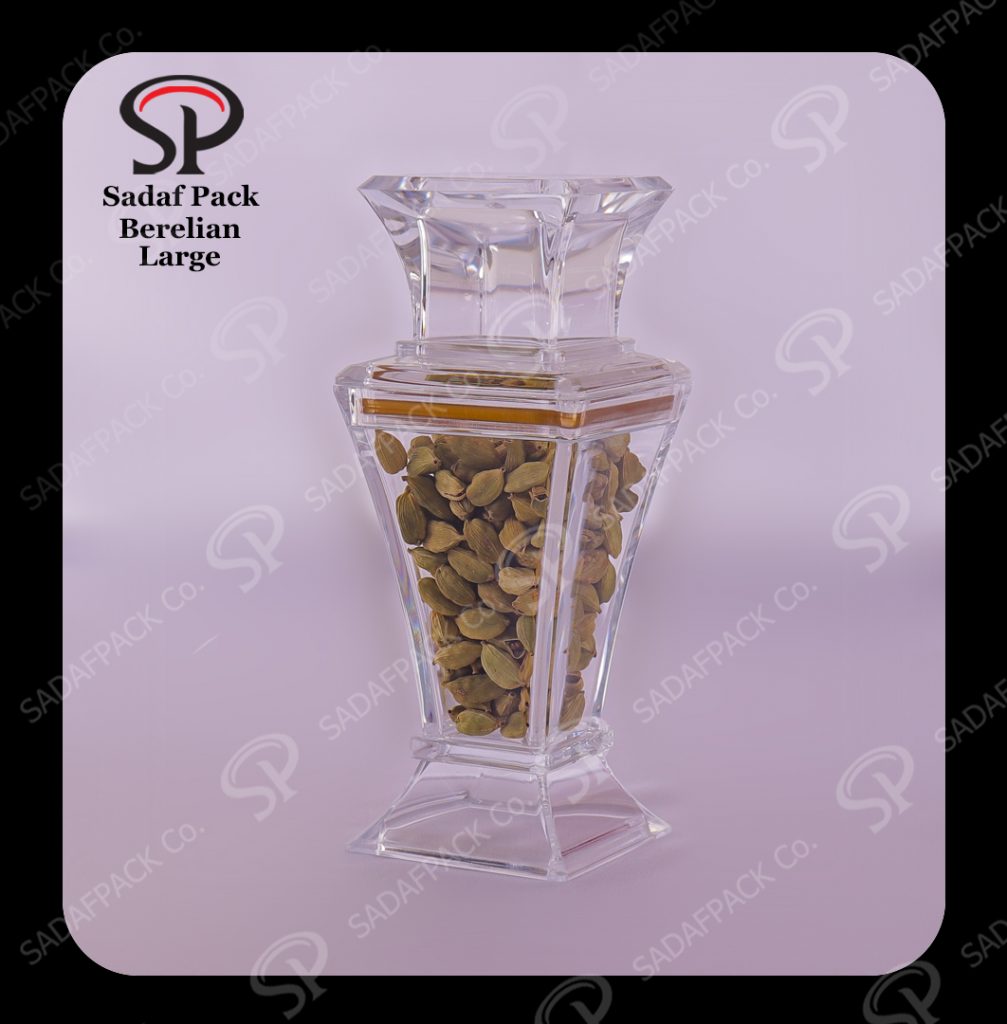 Where and how to buy Berelian Large?
It's time to buy from Sadaf Pack, which is very easy and convenient for you. First, send a message to WhatsApp number +971503058098 and submit your request, then the sales experts of Sadaf Pack Company will give you a special consultation number and assure you that you will choose the best container for packing your products.
Instagram Page
Facebook
Pinterest