The importance of date packaging containers in business
Nowadays, date packaging is very important in Iran, which is one of the biggest producers and exporters of date in the world. Date is also a valuable export product that must be packaged carefully and delicately for export to and sale in different places. This has led to the high significance of the packaging process of dates. With efficient date packaging containers, the price and value of dates in international markets can rise and bring better profits for the producer and the exporter.
In this piece, the Sadaf Pack Company, as the biggest producer of different forms of date packaging containers with a glorious and successful record in Iranian markets, aims to introduce you to the newest and most popular methods of storing dates and guide you to a bright and successful path.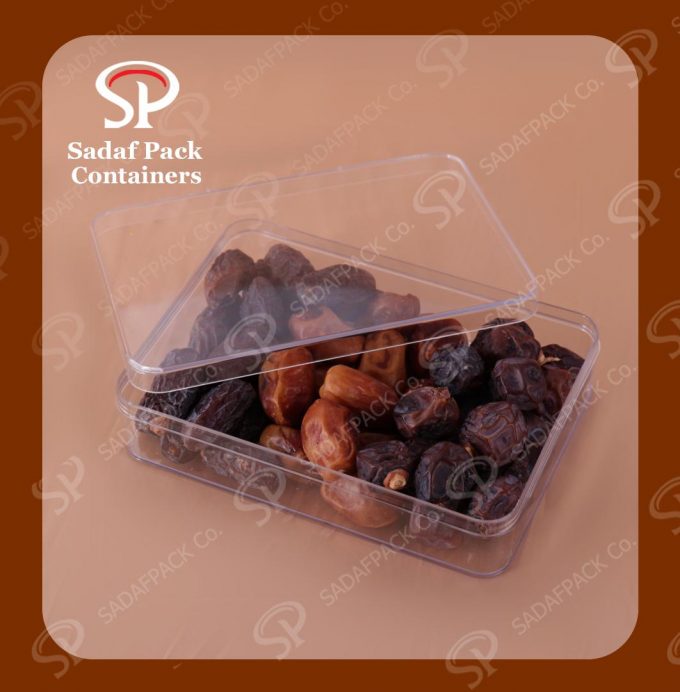 Date packaging containers of Sadaf Pack
Nowadays in the global market, it is observed that in addition to the quality and taste of products, the packaging and other appearance-related matters are very important for the customers and they are more willing to purchase the products of a brand who uses more elegant and chic packaging. As mentioned, to sell and export foodstuff like dates, appropriate packaging containers must be used to increase added value of the product. Sadaf Pack, the biggest producer of date packaging containers in Iran, helps you access the best packaging for dates.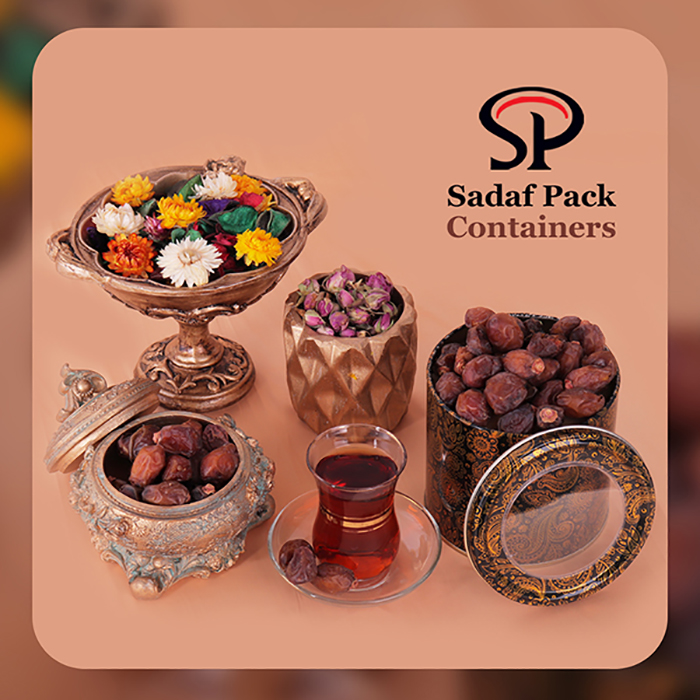 what is the best date packaging design?
As explained earlier, if packaging is done in the best possible way, the packaged product will enjoy much added value and an increase in price; dates are no exception to this rule.
In design of storage packaging, certain rules and principles must be followed to make the product more appealing and valuable in the customer's eyes. In the process of designing date packaging in Sadaf Plastic Industries of Toos (Sadaf Pack), we have tried to follow international guidelines and standards in designing the packaging of this popular product. There are many forms of packaging available in today's world, and luxury packaging of dates continues to attract buyers.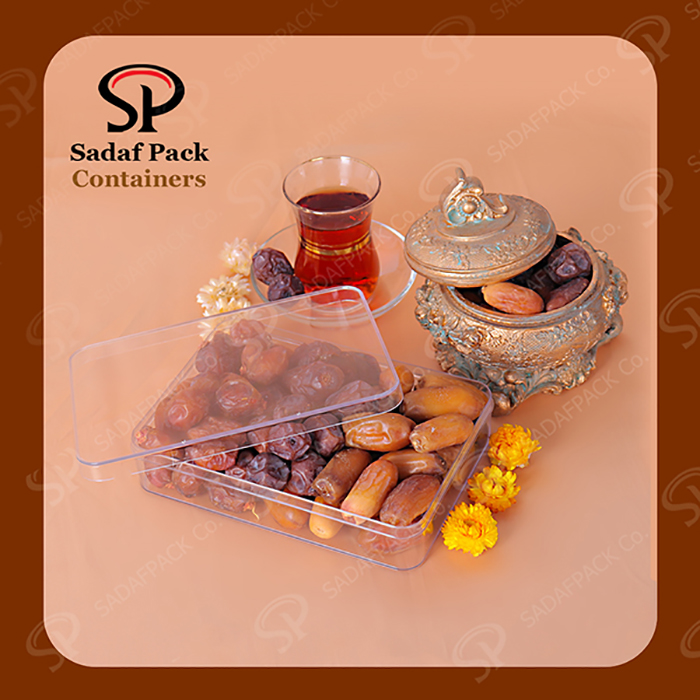 Date packaging containers
In countries where date consumption is on the rise, they encourage storing them in container boxes. These container boxes must meet certain criteria and be able to preserve the dates' quality and freshness. Three of the most important qualities that date packaging containers must meet are discussed below:
1- Blocking the flow of air and having the best possible strength: Dates are among fruits that are vulnerable to humidity and can become unusable upon exposure to humidity. For long-distance deliveries and export transportations, a packaging must be selected that preserves your date in the best possible way.
2- Reasonable price: Trading dates is an expensive and difficult business on its own; it is best to use packaging containers with the best quality and the lowest price. The Sadaf Pack Company uses the best raw materials and equipment to provide you with date packaging containers of the best quality and most appropriate price.
3- The weight of packaging for export dates: The costs of exporting products are extremely high; light packaging containers must be used to facilitate the transportation.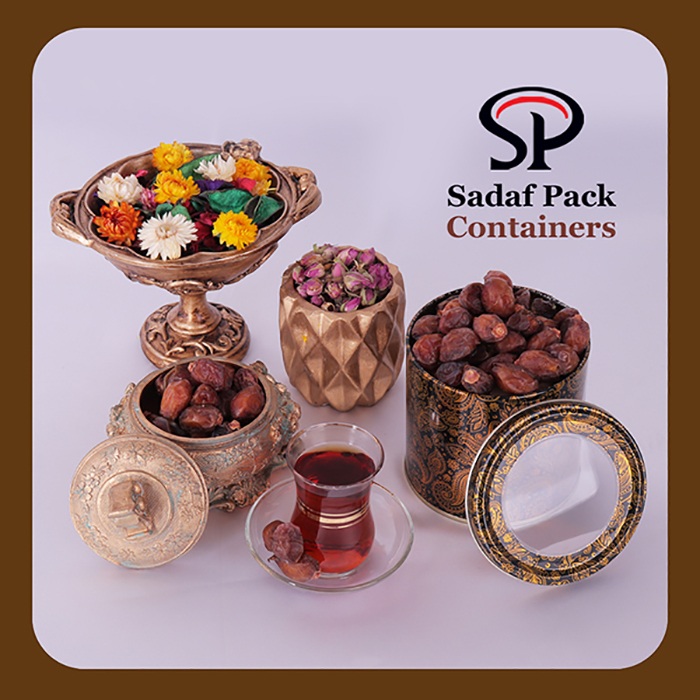 Different types of date packaging containers
As said earlier, packaging containers are the best way to transport and preserve the dates. In this section we want to introduce you to three of the most widely used containers and methods for packaging dates, so you can choose your favorite:
1) Poly-Crystal date packaging Container
The raw material for these date packaging containers is oil; hence, production of plastic containers mostly happens in countries where oil is more widely used and traded. The newest plastic containers are strong enough to endure accidental falls from short heights and still be usable after the fall. Light and heat can affect the plastic containers in the long-run; the date container might lose its clarity and previous glow, but snow and cold have no effect on the packaging and will not damage it. The price of plastic containers for exporting dates is much more reasonable than other options. Dates usually secrete a syrup after a while of being in a container; plastic containers, unlike cardboard containers, are more resistant to this syrup and the packaged dates will face no problems. The variety of plastic containers is delivered to you safely in special boxes with foam. Here we will introduce you to some specific models of plastic containers that are suitable for date packaging.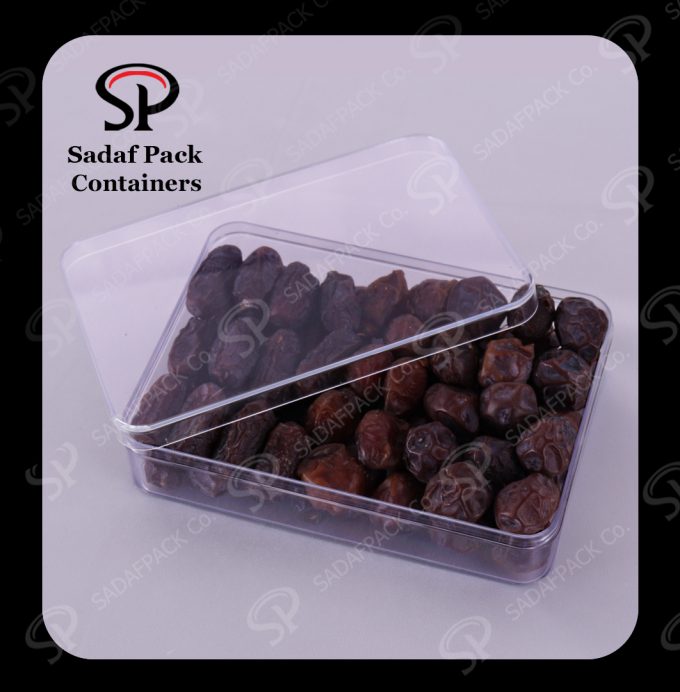 a) Crystal Container – Rectangular 100 :
Sadaf Pack's rectangular clear plastic container 100 is one of the best containers for preservation of dates. Sadaf Pack's rectangular container 100 is made from polystyrene. This transparent container is designed in such way that the dates within is can be seen from outside. This is an appropriate packaging for dates and is used in Europe for packaging of dates.
b) Crystal Container – Rectangular 400 :

Among other beautiful and quite appropriate containers for preservation of the dates' quality is the rectangular plastic container 400. This container is clear and transparent, just like the rectangular plastic container 100, which allows the customer to view the product in the container without opening it.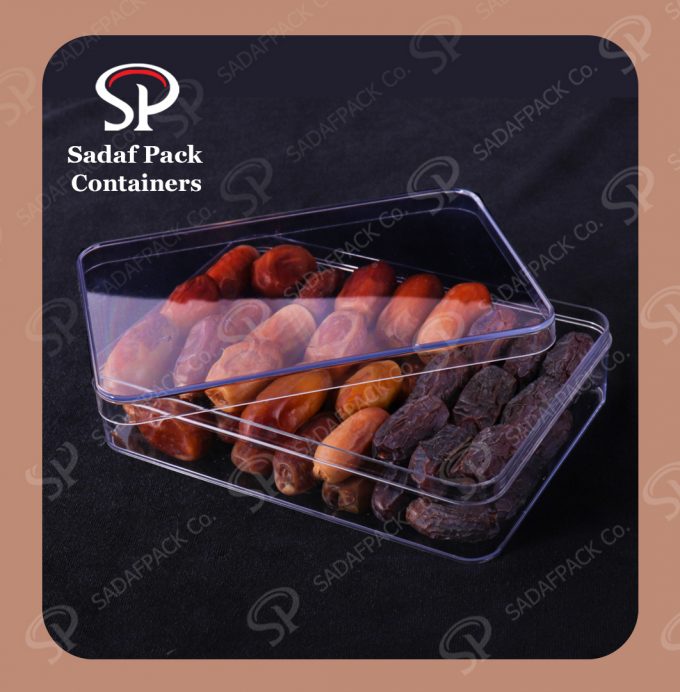 2) Metal date packaging Container
dates packaging in the traditional style appeals to the customers. This style of date preservation is popular is the Gulf countries and East Asian countries. Metal containers are the most resistant to thermal changes, falls, or hits, and they preserve your dates well. What differentiates metal containers from other forms of date packaging is the wide variety of designs that can be printed on the containers. You can print your own design on the metal date containers in five simultaneous colors and offer it to your customers. Metal containers are usually used for exporting dates due to their higher resistance compared to plastic containers; they assure you that the dates will be preserved. Here we will introduce you to some of Sadaf Pack's appropriate metal packaging containers for dates.
a) The rectangular 14*19 metal container (3 cm height):
The 14*19 metal containers with 3 and 4 cm heights are among the suitable containers for storage of dates. These metal containers are very elegant and have beautiful designs printed on them, which induces a positive feeling in the customer.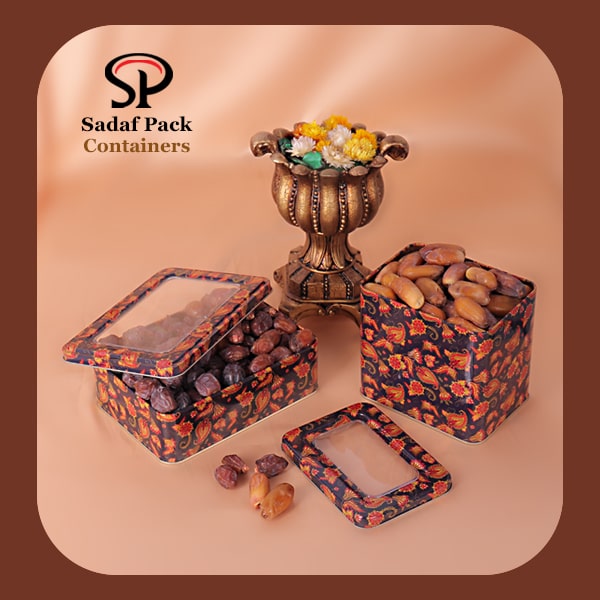 b) The rectangular 10*15 metal container (3 cm height):
The 10*15 metal container with 3 and 4 cm heights is also suitable for packaging dates; it is similar to the previous container, only smaller. This container too, like the other metal containers produced by Sadaf Pack, has a variety of designs that can make the customers feel good.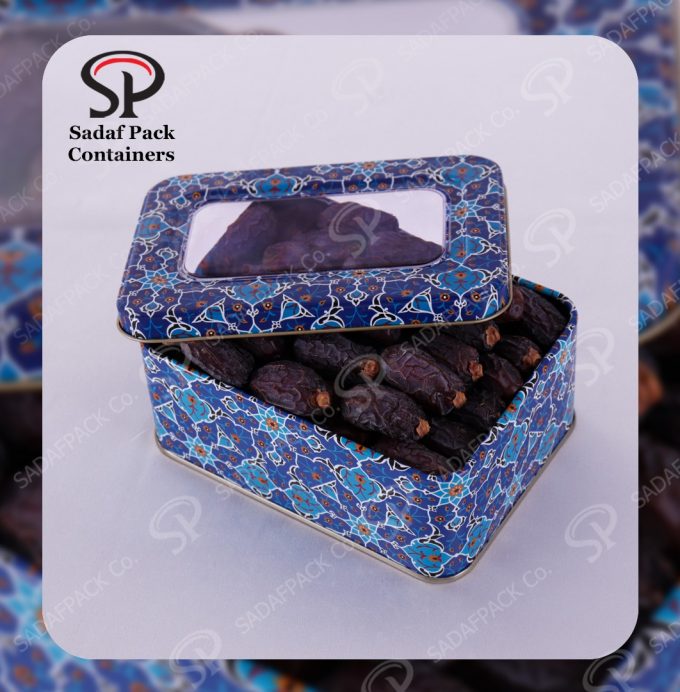 3) What is the cheapest way of date packaging?
Among other packaging methods that can be used are craft packets, stand-up pouches, and other laminated packets of Sadaf Pack. Of course, using these packets is mostly appropriate for dried dates since fresh dates have an oily and sticky sense to them and will stick to the packet's sides. We suggest using this method for domestic sales.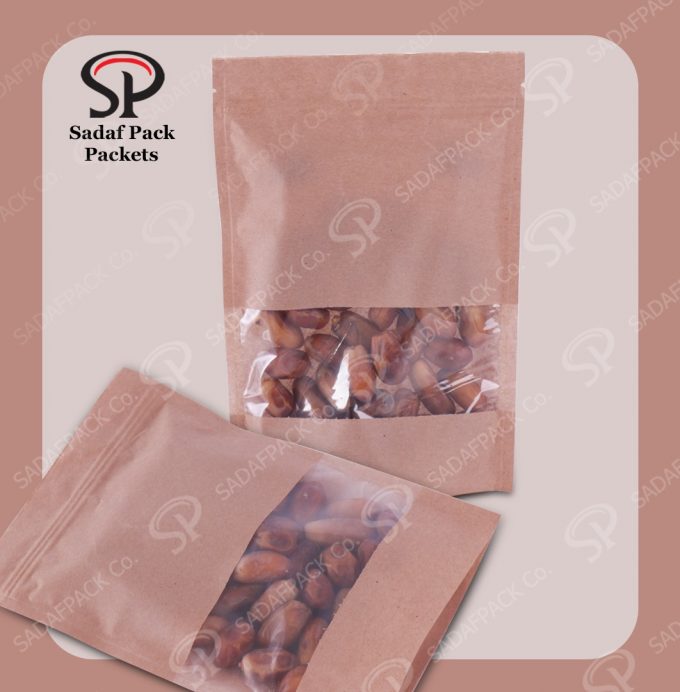 Conclusion
We hope to have helped you with selecting a date packaging with this piece. All of this information is the result of years of experience in global markets. The Sadaf Pack company, as the largest producer of date packaging containers, offers you the best quality of production for plastic, metal, and paper containers and guarantees the preservation of your product. You can contact the professional consulting in the sales unit of the Sadaf Pack company for more information:
You may like to read these article:
Dried Fruits & Nuts Metal Containers
Pros & Cons of Coffee & Tea Metal Tin-Boxes
This post is also available in: العربية (Arabic)