Packaging containers as the main concern of the exporters and vendors of saffron and nuts are the highest investment priority of each manufacturing company to provide the proper and stylish packaging. However, there are constraints and challenges in proper packaging design due to the paucity of basic facilities. This paper aims to consider a number of saffron and nuts and saffron packaging ideas as well as their advantages and disadvantages in order to select the most suitable and stylish saffron packaging idea.
1. Packaging containers and pouches
1.1 Polymeric packaging containers and standing pouches
Using the polycrystalline containers in the saffron packaging industry has always been widely welcomed by customers and has been called the best-seller saffron packaging type in the world. There are many advantages to this saffron packaging idea, including the transparency and brightness of the container for an attractive display of the saffron, reasonable price, impact resistance, easy transportation (due to its lightness), among others. Also, even the secondary saffron packaging of crystal containers, including cardboard, wood, and velvet boxes is much more cost-effective and beautiful than other saffron packages. This saffron packaging idea was first proposed by the Sadaf Pack Company. Crystal saffron packaging has been well received and used in many countries around the world.
Moreover, using the special formulation of the specialists of the company has led to the increased transparency, brightness, and attractiveness of the crystal containers of the Sadaf Pack Company compared to other similar products.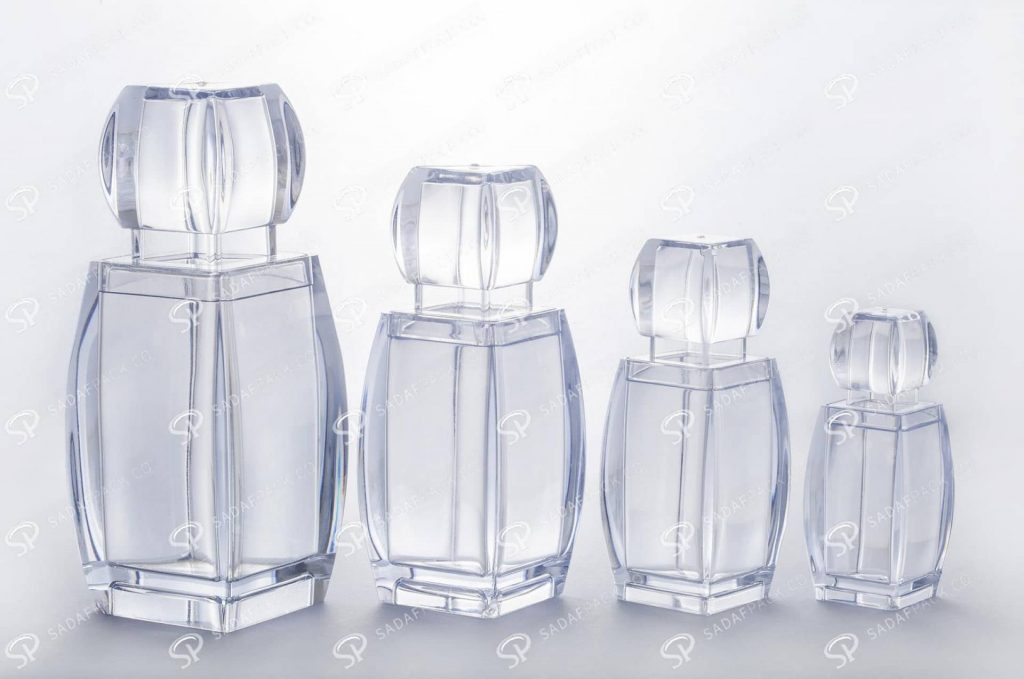 1.2 Khatam metal containers
The idea of ​​using metal containers for saffron packaging that has been popular in Iran since a long time ago, integrated with the traditional Khatam design as a manifestation of the rich Iranian culture, brings a pleasant nostalgic sense for the viewers. This saffron packaging idea ​​which is characterized by high durability, high printing power as well as various and desired printings, induces a sense of classic luxury to your customers, and due to the lightweight, it is cost-effective in terms of shipping costs.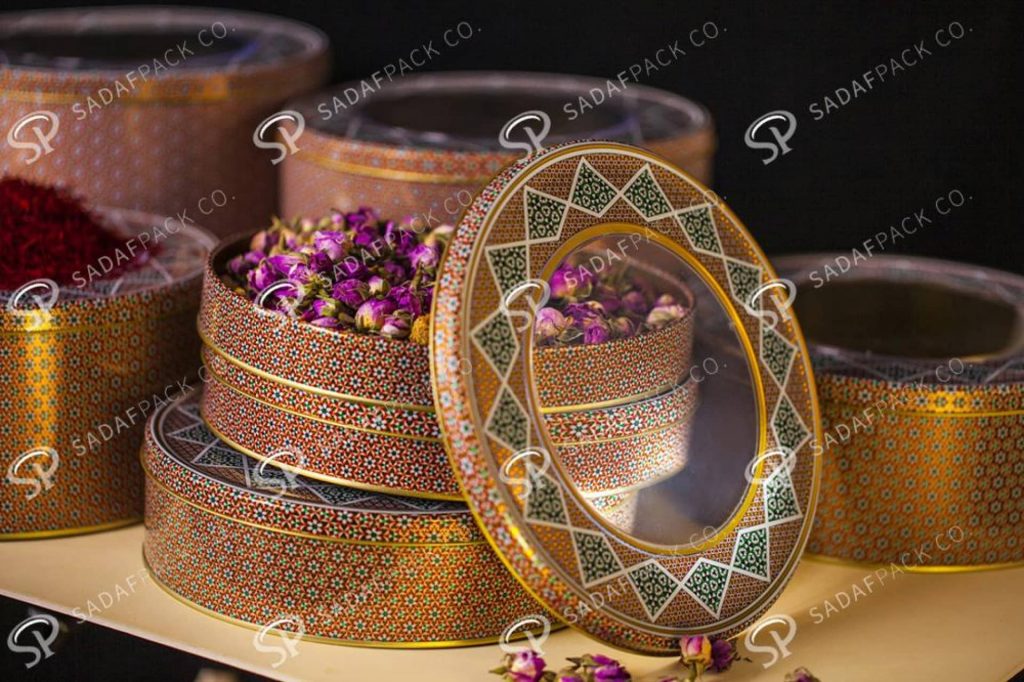 1.3 Glass containers with cork lids
This saffron packaging idea which is characterized by using the glass in the body, creates high transparency, thereby increasing the attractiveness of the saffron in the container. Glass containers with cork lids give a classic luxury feeling to your audience, however, there also many disadvantages such as its high weight which increases the weight of the export cargo, increased shipping cost and the vulnerability of the glass, so that in case of breakage and damage, the product within the container, especially saffron cannot be used. Cork lids are often used for glass containers; they absorb the aroma of saffron. Cork lids contain woodworm that makes the saffron or any other product rotten or unusable. Moreover, since the glass is imported material, the finished cost of the product will be too high, and for this reason, it is not usually available. Also, there is no variety of glass molds and this leads to the monotonous style of the saffron packaging. It is possible to print on the glass containers, but due to limitations such as fragility, there is not much variety of printing. However, the variety of mesmerizing shapes and designs in crystal and metal saffron packaging has remarkably increased. Besides, raw materials for crystal and metal saffron containers are produced in Iran and therefore, the finished cost of these goods is far more reasonable than glass containers. They are also more durable than glass containers. Hence, Sadaf Pack Company recommends its customers to use the crystal and metal saffron containers to reduce the above-mentioned problems.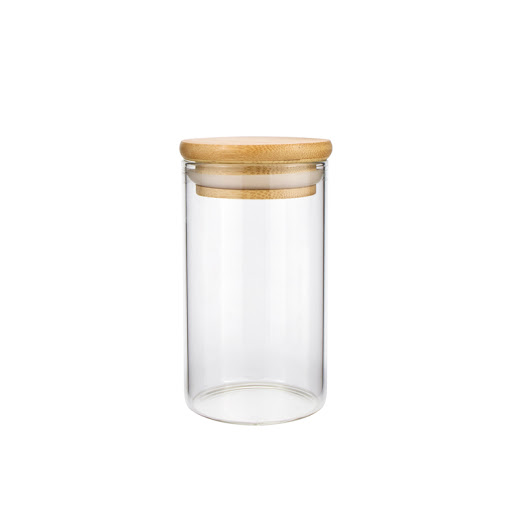 1.4 Using pottery
Traditionally, the idea of ​​using pottery containers for food packaging was very common. Nowadays, due to its availability and reasonable price, it is also employed for fancy saffron packaging which is prevalent in South American and East Asian countries, where their cultural heritage is embodied in their handicrafts. However, due to porosity in their structure, pottery saffron containers have abrasive properties, thereby creating saffron soil and absorb the saffron aroma. Pottery is very fragile and in case of breakage, the product inside the saffron packaging is not usable.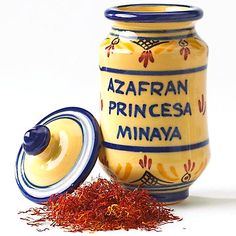 1.5 Circular and rectangular crystal containers
This ​​saffron packaging idea, which is one of the most cost-effective types of saffron packaging, is widely used due to its low price. Circular crystal containers are produced in two types of crystal bottom and white bottom (Spain), the second of which is better due to their light color. Crystal circular saffron containers with a circular appearance and transparency, create an eye-catching image of the saffron as well as your brand, and increase the saffron customers' trust. It is possible to print on these containers, therefore, you can customize the containers with your printing to blazon your brand. Nowadays, this type of saffron packaging idea has become widely used in Iran.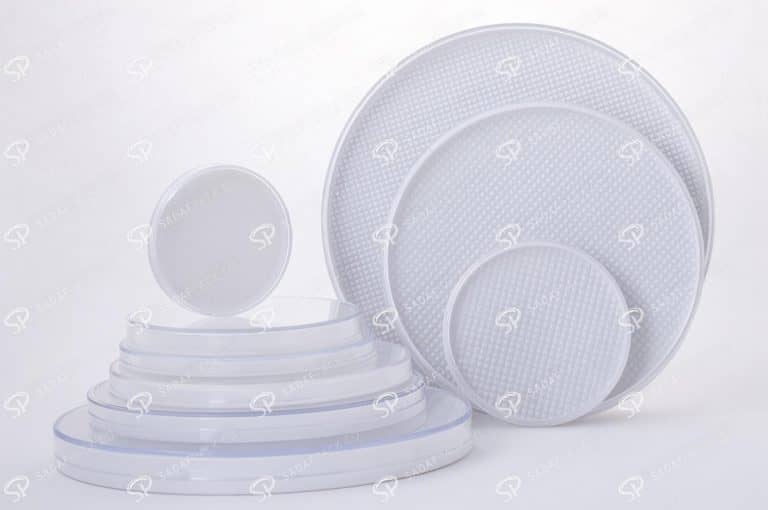 1.6 Laminated paper bags
The laminated paper bags of saffron and nuts is one of the saffron packaging ideas that have substantially become popular for several years. Laminated packaging is a type of Dried Fruit and saffron packaging envelope consisting of two or more laminated layers of Kraft paper or glass with polyethylene, polyamide, or polyester film. They have higher durability than paper bags and therefore, are considered a better alternative for export transportation or shipping to remote areas and this is their competitive advantage compared to other kinds of paper bags. There is no concern about the product damage due to the strong stitching of this kind of packaging materials. However, this saffron packaging idea, which is mostly used for dried fruits, coffee, and the like, has disadvantages, including the fluctuation of the price of raw materials for production, product damage inside the bag due to the compression of the packaging.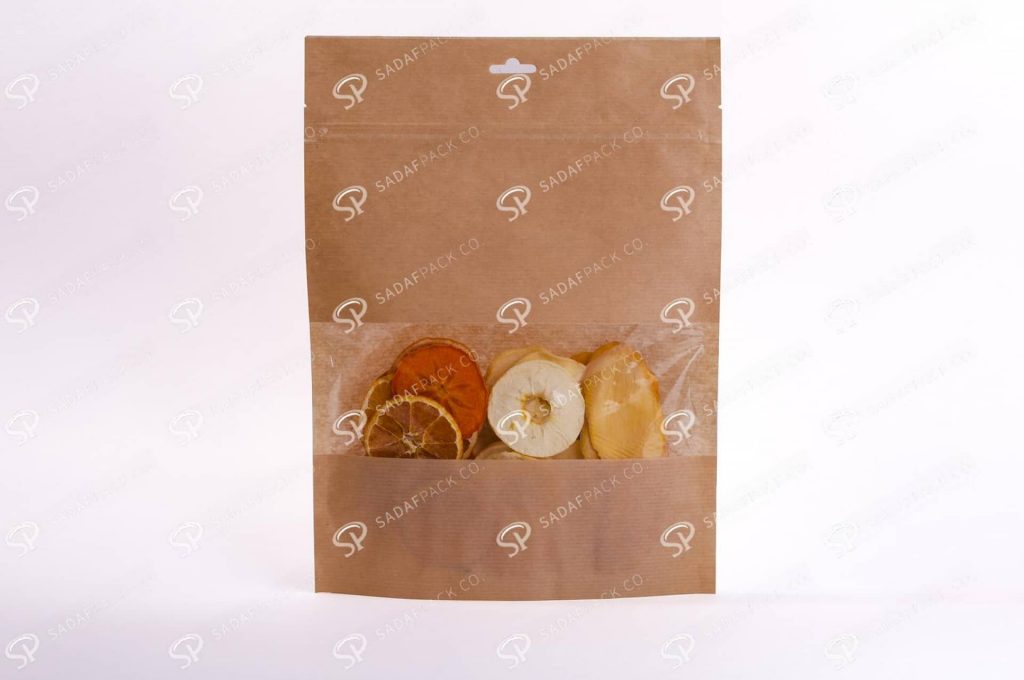 1.7 Jeweled glass containers
The saffron packaging idea, in which the outer wall of the glass container is embellished with jewels made of plastic or gold glass, makes the container more beautiful. However, these containers are imported and their finished cost is very high. Thus, they are not always available. Despite the beauty of the containers, saffron or any other product inside them is not visible and consequently, customers may unknowingly purchase the counterfeit and low-quality saffron. Therefore, these saffron packaging ideas are only used for special and expensive gifts.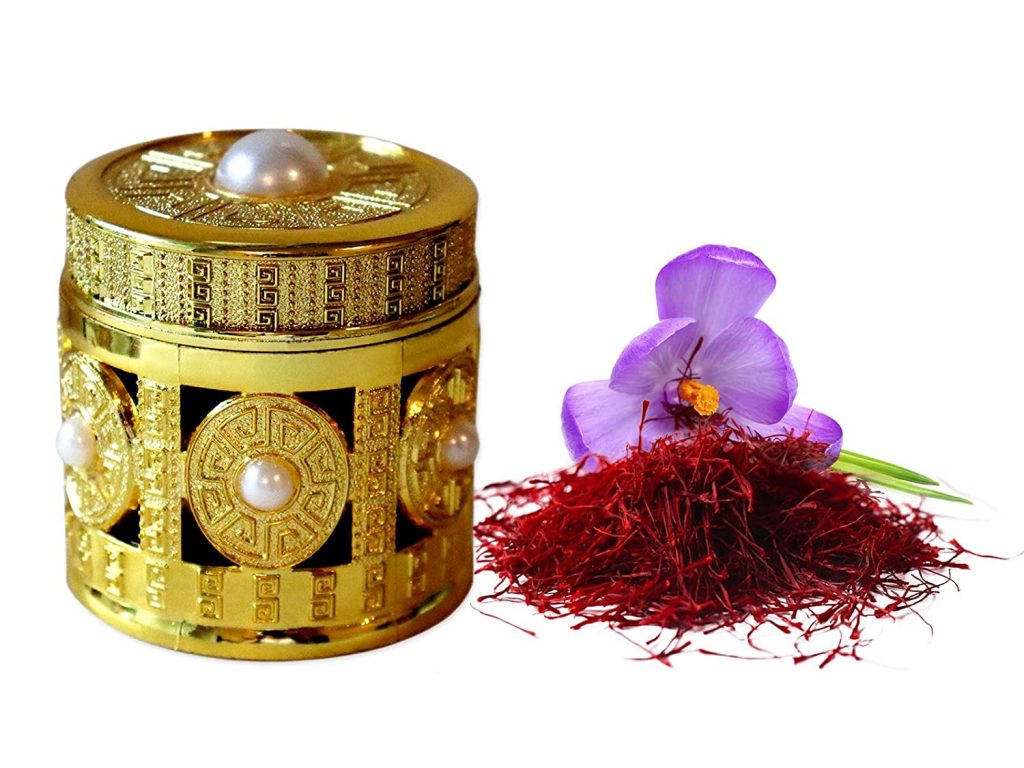 1.8 Containers with clipped lids
Another ​​saffron packaging idea refers to the use of the crystal and metal containers with clipped lids. Saffron aroma is preserved in clipped containers due to its air impermeability. Clip containers are used for high weights of saffron (50 g and above) and are not usable for low weights of saffron.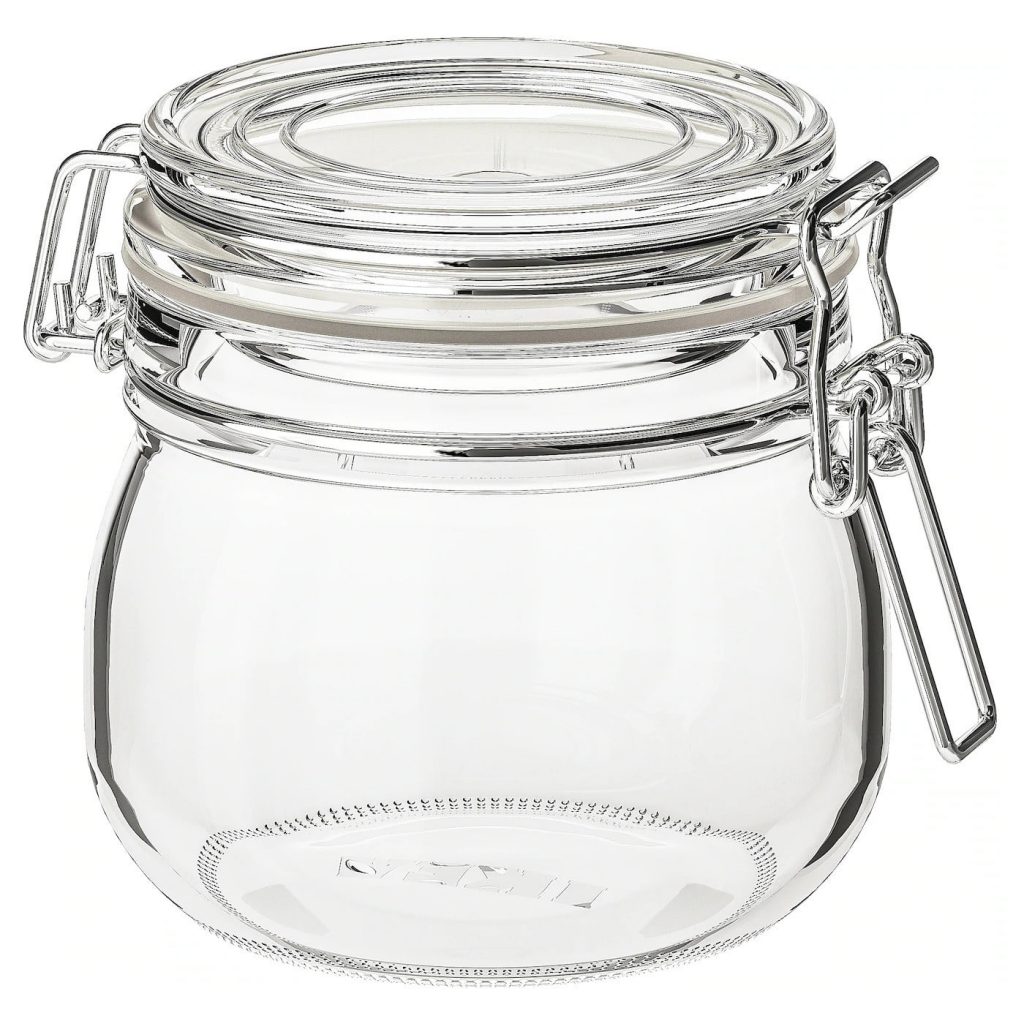 2. Secondary packaging of containers
2.1 Cardboard bags for round crystal and metal containers
This ​​saffron packaging idea, which consists of paper and cardboard, is considered as one of the most economical and cost-effective saffron packaging ideas. For example, the talcum cardboard bag, in which the saffron packaging is placed in the talc so that it cannot move, as a result, the container is fixed and saffron is visible. It is possible to print on this kind of saffron packaging and build your brand more striking for your customers.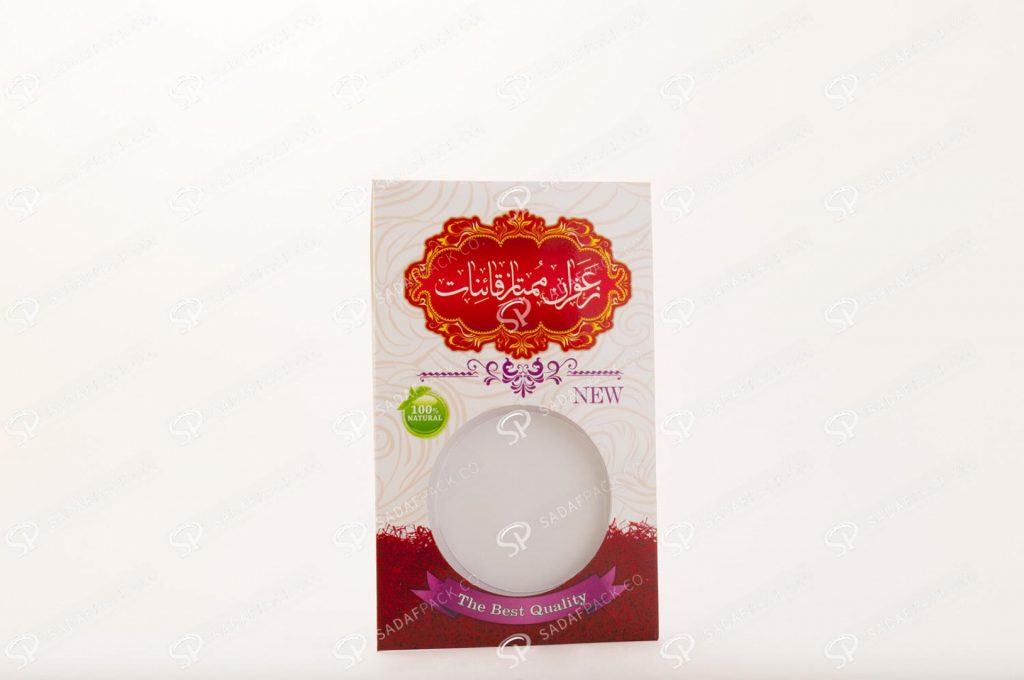 2.2 Velvet covered box
Velvet covered boxes are considered one of the most luxurious and appealing types of saffron packaging ideas. This saffron packaging idea ​​ is usually offered in one or more saffron containers with brass mortar, Pyrex, or porcelain teapot, and the like, in which the saffron packaging container is supplied on its stand within a box with a velvet cover. Velvet covers have different colors such as light blue, dark blue, light red, and so on. It is not possible to print on saffron velvet covers, nevertheless, printing a plaque can give your brand a more eye-catching style. This saffron packaging idea ​​ is very popular and used in the Persian Gulf region. The disadvantages of this package include high volume and high weight, which is not economical in saffron exports.
2.3 Wood containers
Wood containers for saffron packaging, which are used as secondary packaging for saffron containers, are considered as special packages in which crystal or metal containers can be placed in single and several containers with brass mortars and the like. In addition to lower weight than velvet boxes, this ​​saffron packaging idea is characterized by a higher production speed, more affordable price, and more color variety, such as beech, oak, dark, and so on.
Wood boxes have laser printing capability, creating a lasting saffron branding and packaging impression on your customers. It is noteworthy that the wood saffron packaging idea is one of the new ideas.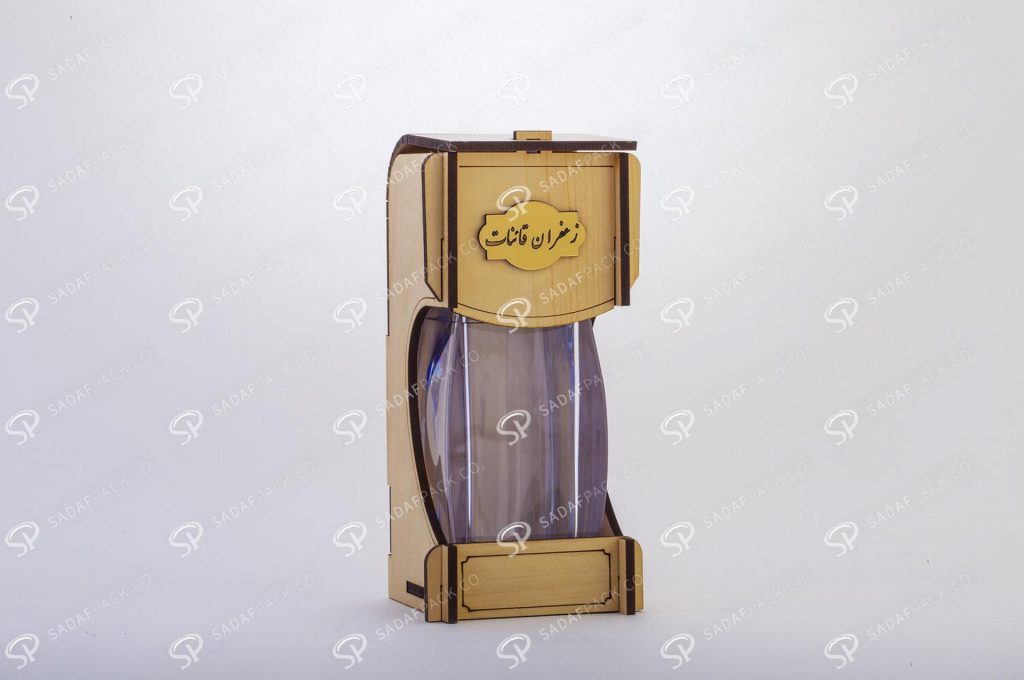 2.4 Cardboard box
The Cardboard box is one of the best-selling types of saffron packaging idea pouch bags. Cardboard boxes of the Sadaf Pack Company are produced in different sizes and make it possible for the customers to select a suitable and usable cardboard box for their orders. Sadaf Pack cardboard boxes also have a variety of designs, offered in crystal saffron packaging containers of diamond design, oyster design, Milad design among others. Due to its more affordable price, this idea of saffron packaging ideas​​ is more common than a velvet covered box and wooden box ideas. It is possible to print on cardboard bags for creating a striking impression of the container as well as your brand. In addition, it is used more than other saffron packaging ideas export due to its low weight, cost-effectiveness and variety in design.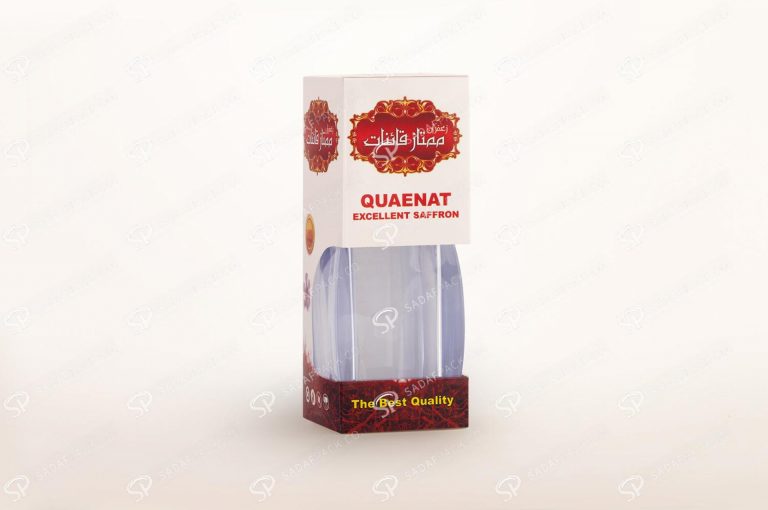 2.5 Saffron stand
This ​​saffron packaging idea, as the most economical and cost-effective saffron packaging ideas, is one of the bestsellers in Iran. Reasonable price of saffron packaging covers is attributed to its production and sell competitiveness. Also, these saffron packaging covers are eye-catching. In this saffron packaging idea, saffron is packed in food grade plastics (BOPP cellophane) and placed in a cardboard bag. These cardboard bags can be put on a cardboard stand where it can contain a variety of these bags with different numbers, depending on the size and dimensions of the saffron packages.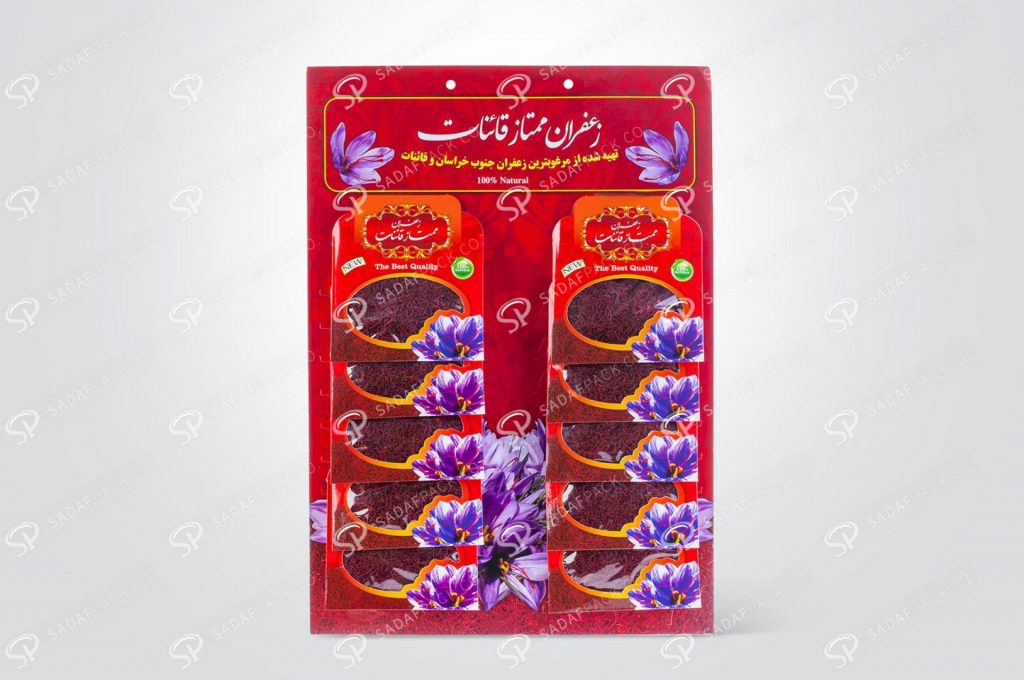 2.6 Hard box
Nowadays, the hard box is widely used in different industries such as electronics, clothing, and cosmetics, and so on. By all means, it has been recently used in secondary packaging containers, but the finished cost of this idea is not affordable due to the expensive raw materials. Therefore, it is considered for high-cost products as well as stylish and dedicated gifts. Hard Box is used in the Persian Gulf region and parts of Europe.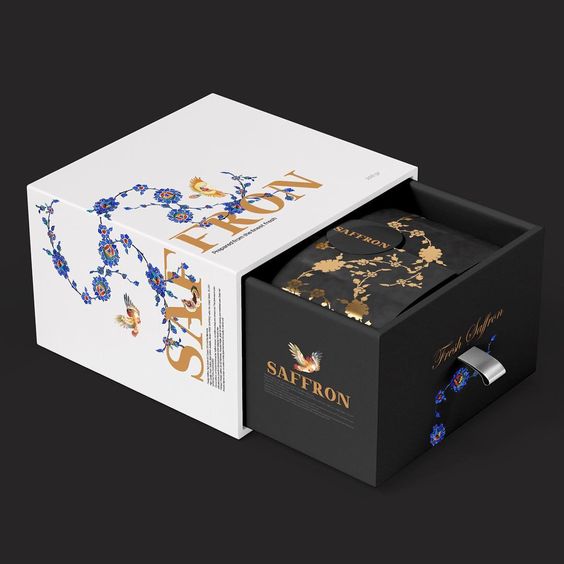 2.7 Crystal container in a wooden box with stick printing
Using the crystal containers in a wooden box is considered one of the saffron packaging ideas, in which wooden stick printing is used to remove saffron threads in order to provide a healthy product. This saffron packaging idea​​ has just been introduced. However, this type of packaging, due to its high cost, is used only for fantasy and beauty purposes.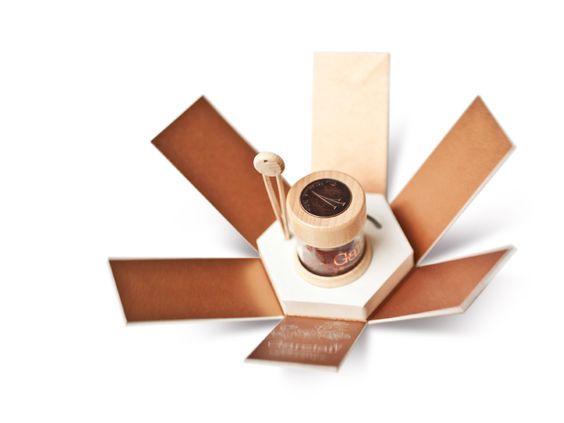 To see more saffron packaging ideas, please visit our pinterest here.
The conclusion to saffron packaging ideas:
Considering the description of different saffron packaging ideas and criteria such as durability, the cost-effectiveness of the container and its secondary packaging, suitable style, and easy transportation, and its eye-catching appearance, it is concluded that polycrystalline and metal containers are the best saffron packaging alternative for the exporters.
more videos on SadafPack YouTube
more photos of saffron packaging containers on Pinterest
You may like to read these article:
Disadvantages of Saffron Glass jars

Advantages of saffron glass jar
This post is also available in: العربية (Arabic)