One of the major concerns of food manufacturers is a proper packaging design for food products. We may find such issues in Saffron packaging design Industry. The major concern of the Saffron exporters has always been to provide a shapely packaging in harmony with the customs and culture of the related country. In this article, we introduce a few types of saffron packaging designs as well as their secondary packaging in different continents and suggest frequently used and consumed packages in each region and country.
1. Saffron Packaging Design in the East Asian Countries
The countries including China, Japan, Thailand, Vietnam, etc. located in the eastern part of Asia use mostly crystal cans such as Azin and Gohar as well as metal ones. Saffron packaging containers in East Asian countries are usually supplied in low volumes such as 1g, 2g, etc. The design of metal cans for saffron packaging in the East Asian countries is usually threaded or made of light metals such as aluminum; such raw materials used in metal containers of saffron packaging are very light and the related transportation costs are highly economical. As such raw materials are plentiful in these countries, they are very cheap. For the secondary saffron packaging, the East Asian countries also use wooden packagings such as wooden boxes with Azin and Gohar designs. Wooden secondary packaging is designed with the possibility of laser printing and engraving on them.
2. Saffron Packaging Design in Persian Gulf States
In the countries including UAE, Saudi Arabia, Kuwait, Qatar, etc., all of which are among the Persian Gulf states, saffron packaging design is offered in vivid and warm colors like red, yellow, green, black, golden, and so on. Metal and crystal packaging containers are also widely popular and frequently used in the Arab countries of the Persian Gulf. In those countries, saffron packaging is provided in all volumes, where 20g/50g packages are widely used just like those of 1g and 2g. The secondary saffron packaging in these countries is very fashionable with an expensive appearance. Adorned with gems as well as vivid and warm colors such as a very expensive golden one, they will be appeared brilliant and tempting for the buyers.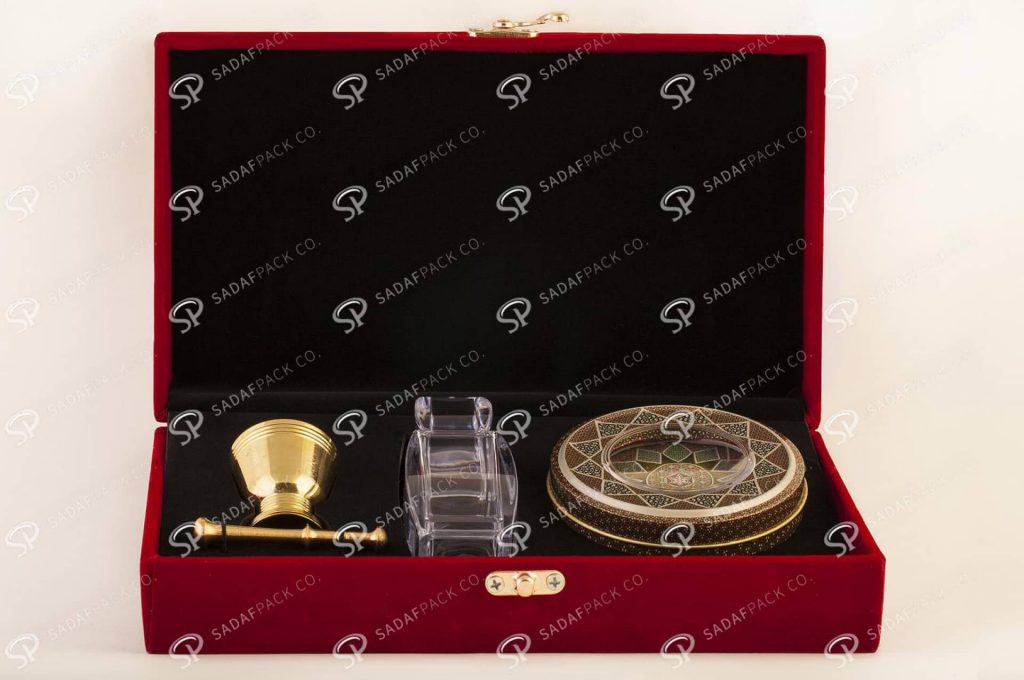 3. Saffron Packaging Design in European and North American Countries
Saffron Packaging Design in European countries is simple and in cool and faint colors such as white, despite the Asian and Arab ones. Saffron packaging designs in these counties are usually monochrome, with logo and brand. That is why the price of the saffron secondary packaging is remarkably economical. The material of Saffron packaging containers in European countries is recyclable such as borosilicate glass. Considering the regulations and standards such as green packaging in European and North American countries, the saffron manufacturers and exporters have to use glass containers in the saffron packaging. In this article, we examined thoroughly the advantages of glass containers of saffron according to this standard as well as those of such packaging design. These containers are very expensive due to being exported and the related transportation costs are not economical, as they have been made of weighty raw materials. We have also fully studied some disadvantages of glass saffron containers in our article titled "disadvantages of glass saffron packaging'. Furthermore, in our article "saffron packaging in Spain", we have thoroughly investigated the saffron packaging design as well as frequently used packaging in European countries, especially in Spain.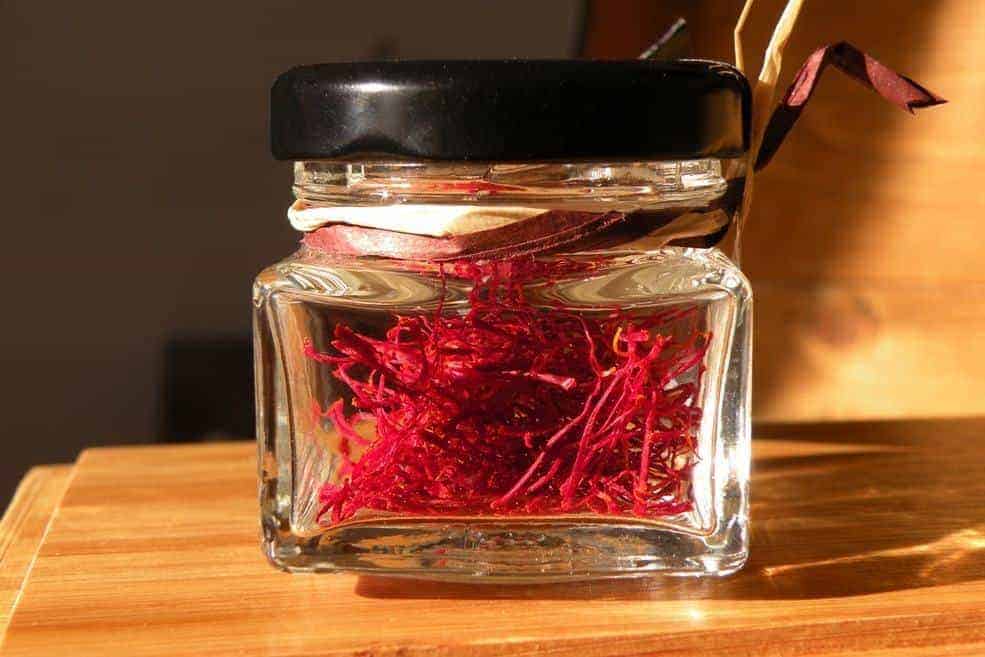 4. Saffron Packaging Design in Iran and Central Asian Countries
Among the most frequently used saffron packaging containers in Iran and the Central Asian countries, we may suggest to polycrystalline and metal ones. From ancient times, polycrystalline saffron packaging containers including Azin and Gohar as well as round crystal containers have been frequently used in the Central Asian countries such as Iran, Afghanistan, and India. Thus, saffron metal packages are popular in these countries since ancient times. Saffron packaging is much diversified. Rather, it is consumed daily in Iran and neighboring countries like Afghanistan, Pakistan, and India. For this reason, saffron packaging design is created in low volume containers such as 1g and 2g rather in higher volume ones like 50g. Saffron sellers in Iran and Central Asian countries are attempting to use at least inexpensive and economical packaging for their products; that is why paper and cardboard packaging is also widely and frequently used in Iran and East Asian countries.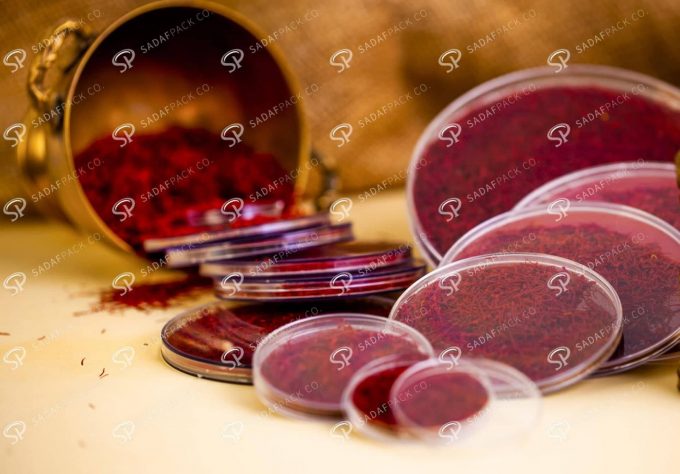 5. Saffron Packaging Design in African Countries
The taste and interest of the African countries in the saffron packaging as well as dried nuts and fruits is very similar to those of Arab states of the Persian Gulf. The African countries use vivid and warm colors in their saffron packaging design. Such containers are generally expensive and very fashionable. A variety of containers with different volumes in African countries is widely used. The secondary packaging including velvety and wooden boxes are also frequently used in countries such as Algeria, Egypt, Tunisia, etc.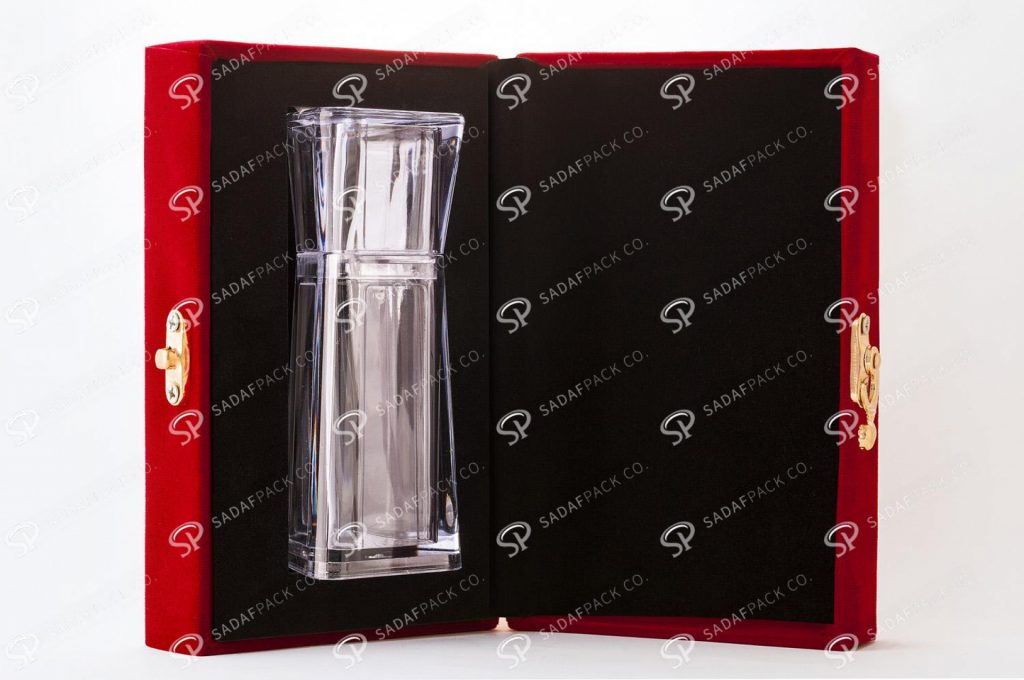 6. Saffron Packaging Design in South American Countries
South American countries provide their saffron packaging design like the European ones generally with a monochrome and simple design. However, unlike European, such designs are supplied in South American countries in different volumes including 1g to 50g, where packaging containers are usually simple and inexpensive.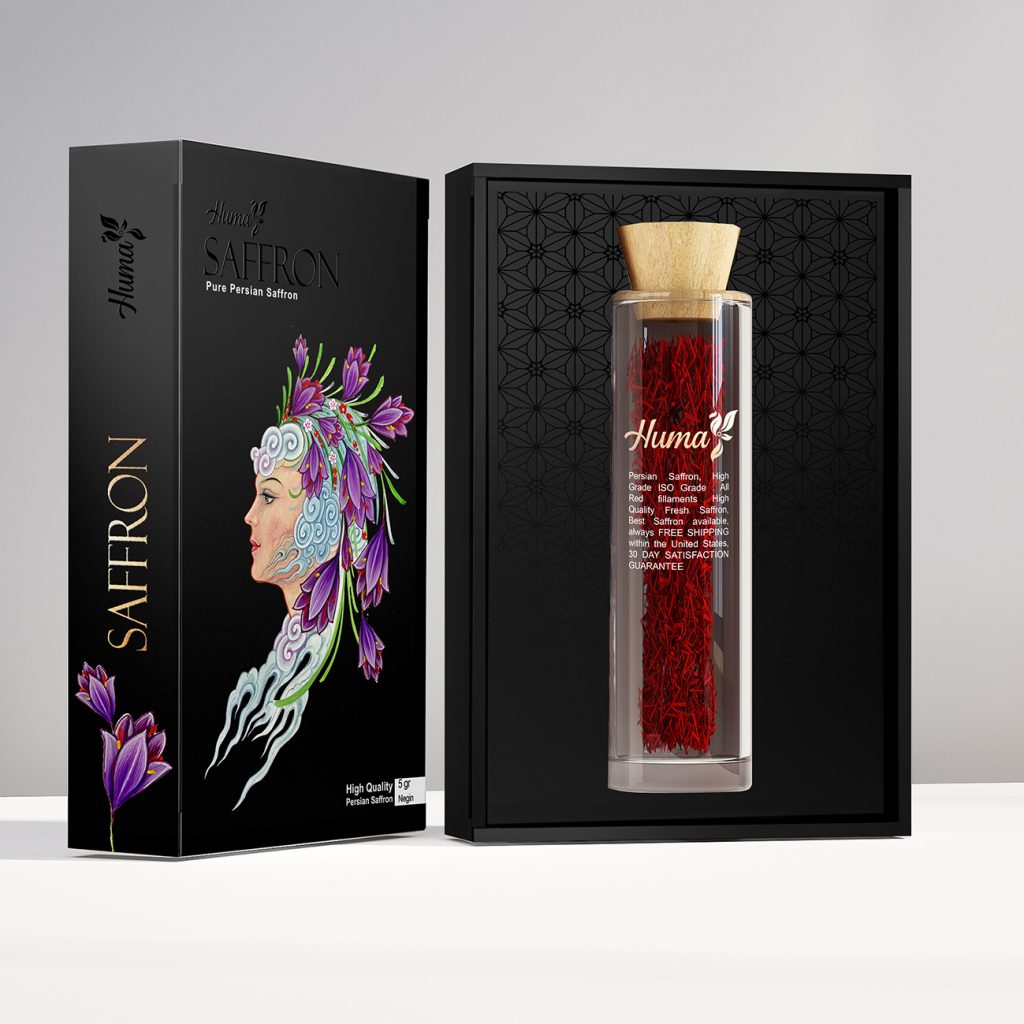 more videos on SadafPack YouTube
more photos of saffron packaging containers on Pinterest
This post is also available in: العربية (Arabic)