Written by Oyster Pack Public Relations
Saffron is known as one of the best food additives all over the world. In spite of all the features of this product and because saffron is stockpiled dry, to store saffron was always challenging and its quality may decrease in the long run.
Saffron may be stored in an export warehouse or inside a kitchen cabinet. The important point is to know what method should be used to preserve the quality of saffron. The way by which saffron does not lose its distinctive taste and fragrance and you can always use quality saffron.
The factors which are effective on the quality of saffron
It does not make any difference if you export saffron or you are a housewife. In any case, you should pay extreme attention to this valuable product's preservation, especially if you are a businessman and want to export a superb product. It is essential to choose a method for storing saffron that guarantees its quality. It is also necessary to pay attention to the following points, both for saffron merchants and for a consumer:
1. The influence of appropriate packaging in protecting saffron
As moisture has an unpleasant effect on the quality of saffron, it is better to pack the saffron completely in metal or wooden containers. It is advised not to use low quality plastic containers for this issue, because saffron will lose its properties in these containers.
One of the other appropriate packaging for saffron is polycrystalline containers which is a good alternative to plastic containers and will help maintain the quality of saffron. Sadaf Pack Company is the best producer of polycrystalline containers for saffron in Iran and all over the world.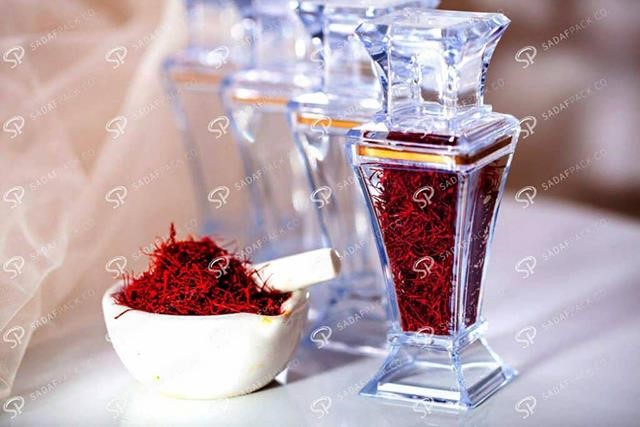 2. The effect of proper temperature on preserving saffron
The stability of this aromatic spice's color and aroma is better at low temperatures. The higher the temperature is, the more it loses these properties. Studies have shown that the best temperature to store saffron is the normal temperature of the surrounding environment. If you think that the temperature of the surrounding environment is warmer than usual (like in the kitchen), you can also keep saffron in the fridge to sustain its quality.
3. The effect of moisture on the quality of saffron
One of the factors that should be remembered in keeping saffron is the humidity of the environment where it is kept, which means that the humidity should be low. Otherwise, saffron absorbs the moisture of the environment that causes it to lose its pleasant color and smell.
How to increase the durability of saffron
The quality of saffron is the most important issue for the consumers. There are various ways to maintain the quality of saffron and keep it in good condition. Here are some methods:
1. Shelving
In order to keep saffron in the storage, it is initially required to use shelves which are made of metal or pallets.
2. Drying and packing saffron
In order to store and preserve saffron in a standard way, saffron must first be traditionally place at the temperature of the surrounding environment for a few days or in the Spanish method and then packaged.
The Spanish method of drying saffron refers to drying it with a heater or electric heater at 55 ° C for 55 minutes and then packing it in suitable and standard containers.
3. Suitable temperature of the surrounding environment for keeping saffron
The best temperature for dried and packed saffron is 2 to 5 degrees Celsius.
4. Lack of moisture and light in the environment where saffron is stored
The best storage conditions for saffron are a dark place without any moisture.
5. Periodic qualitative examination of saffron
Saffron should be checked once a month for its storing conditions and quality.
In order to keep saffron in an appropriate condition, it is better to dry and grind it completely and put it in a container that does not have any air flow.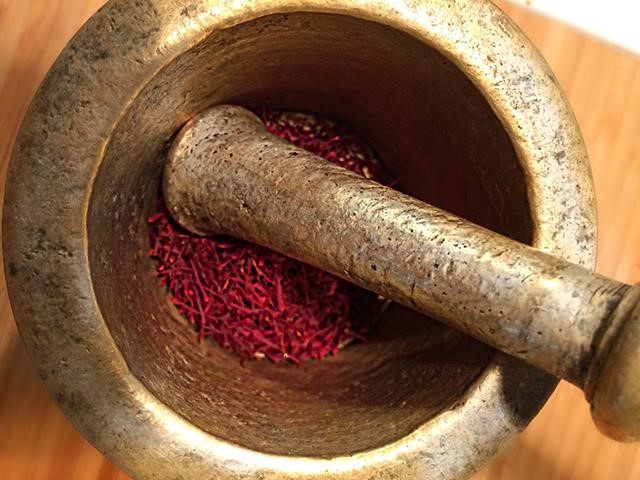 Frequent questions
Now we will answer some frequent questions regarding how to store and preserve the quality of saffron:
Is storing diverse types of saffron, including Sargol, Negin and Dasteh different?
No, the storage conditions of all three types are the same.
What are the ways to keep fresh saffron?
Keeping saffron fresh causes saffron to spoil, rot and have a bad smell. It is better to dry and pack fresh saffron first and then put it in an environment with a suitable temperature.
Is there any expiration date for saffron?
Yes, like all foods, saffron has an expiration date. In the following, we will briefly refer to the ways of identifying fresh saffron from old saffron.
Identification of old and fresh saffron
Old saffron is easily changed into powder and pollen, while the opposite is true about fresh saffron.
Fresh saffron shows its color later, while expired saffron has a fast coloring.
Fresh saffron has a mild smell while old saffron has a nasty smell.
Fresh saffron is soft and somewhat flexible, while old saffron is fragile.
The color of fresh saffron is bright and shiny, but old saffron has a dull color.
How long does saffron survive?
The life of saffron depends on how it is stored and kept.
In case of being stored properly, saffron will preserve its original quality after 3 to 5 years.
What is the best container for saffron?
It is better to use glass containers, polycrystalline containers, metal or wooden containers to store saffron.
Make sure the saffron container is completely protected from air and moisture.
Is placing saffron in the freezer useful to preserve its durability?
No. Do not put dried saffron in the freezer, because keeping this product in the freezer causes saffron to lose its taste, pleasant aroma and irreplaceable properties.
What temperature is suitable to keep saffron?
It is better to keep saffron at the temperature of its surrounding environment.
What is the best way to keep brewed saffron? The best way to keep and preserve brewed saffron is by putting it in the freezer.
You may like to read these article:

Preparing Saffron for Export Until Dispatch
What are the important points in designing packing containers of saffron?
This post is also available in: العربية (Arabic)